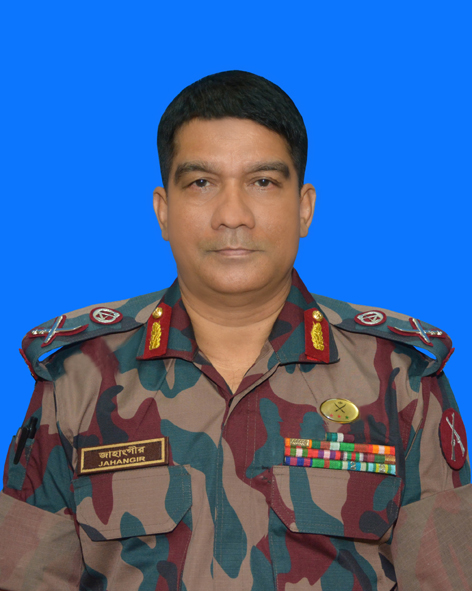 Brigadier General AFM Jahangir Alam, ndc, psc

Position : Chairman, Governing Body
BA 3010 Brigadier General AFM Jahangir Alam, ndc, psc was commissioned in the Bangladesh Army in June 1986 in the Corps of Infantry. He was employed in all the Regimental appointments of Infantry Battalion including second-in-Command and Commanding Officer. He was Instructor in the Weapon Wing of School of Infantry and Tactics twice including the Wing's Chief Instructor. He had served in an intelligence outfit of the Army and also served as Logistic and Administrative Staff Officer (Grade 2) of a newly raised Composite Brigade at the Bangabandhu Bridge site. He was a grade 1 staff officer at the Army Training and Doctrine Command.
He was deputed to the Ministry of Home Affairs as Additional Director General (ADG) of Rapid Action Battalion (RAB) Forces in 2010-2011. He has commanded an Infantry Brigade and was appointed as Director Planning & Maintenance of Bangladesh Ordnance Factories (BOF). He also served as a Deputy Commandant of Bangladesh Institute of Peace Support Operation Training (BIPSOT) from March 2017 to August 2018. At Present he is the Additional Director General (ADG) of Boarder Guard Bangladesh (BGB).Brig Gen Jahangir served in two United Nation's Peace Keeping Mission; one in ONUMOZ Mozambique as contingent member and the another one in UNAMID Darfur, Sudan as Senior Staff Officer (Information) in Joint Mission Analysis Center (JMAC).
Brig Gen Jahangir is a graduates from Defence Services Command and Staff College and National Defence College, Dhaka Bangladesh.